TEDx Talks med svenska föreläsare
2 dec 2019
Inspirerande föreläsningar i kortare format som filmas och görs tillgängliga för hela världen online. Konceptet TEDx Talks har blivit världskänt och att som föreläsare få kalla sig TEDx föreläsare och göra ett ted-talk anses vara ett av de mest ärofyllda uppdragen. Att titta på TED talks är ett enkelt sätt att ta del av forskning, livserfarenheter och goda råd. Och fylla på med inspiration. Eftersom publiken finns i hela världen görs TED talks alltid på engelska. Vill ni boka en TEDx föreläsare till ert nästa event? Inspireras av dessa TEDx Talks med svenska föreläsare i vårt nätverk.
Christina Bengtsson | The art of focus – a crucial ability
How do you bring out the best in yourself? According to Christina Bengtsson, Swedish world champion in precision shooting, the answer lies in the word "focus". It is a phenomenon she has spent her whole career exploring and she warns us that part of the next generation may not possess this ability. In this talk, Christina Bengtsson teaches us how to stay present and shares her captivating story of literally going from zero to hero by using the power of focus.
Emma Frans | Scientific life-hacks to avoid being fooled
Our own brain fools us daily. Luckily, we can all follow three simple steps to make sure this doesn't happen. In a funny and very relevant talk, Emma Frans explains how science can help us fight the cognitive biases that cloud our judgement, ultimately saving us from fooling ourselves. Dr. Emma Frans is an epidemiologist and researcher in the fields of pharmacoepidemiology and psychiatry.
Christina Rickardsson | The Lottery of Life
Christina's story leaves no one untouched, and at the same time it will challenge your views on identity and culture in an era of human mobility and people seeking refuge across borders. It suggests that we are all creators of ourselves and our societies, and what we give is what we get back in return. Follow Christina Rickardsson on her journey from the life in poverty in Brazil to a life of entrepreneurship in the north of Sweden.
Ami Hemviken | It's not the thoughts that counts – but your communication
Ami´s talk is for anyone who wants to get real commutative tools to apply in both your private life and in business. Thereafter, you will be able to use them to affect the people you meet, and perhaps to create a somewhat better world. Ami Hemviken is a Human Behaviorist who has spent the last ten years holding practical lectures about communication and behavior mixed with a great portion of humor.
Lovette Jallow | Normalizing Silence in Swedish Society
Let's talk feminism, intersectionality, culture and customs and ask the important question: "Whose voice gets to be heard?" The human condition is ever changing and I believe as a society we can be even richer by allowing various voices a chance to share alternative perspectives we may not be aware of. Lovette Jallow is a published author, activist and public speaker.
Helena Nordström | What a Taxi Driver can teach you about Place Branding
Place Branding is mainly about attracting citizens, investments and visitors to a place. But how is it done? And where do all great place branding start? And what can a taxi driver teach you about place branding? In this talk, Helena Nordström try to answer these questions by taking you on a journey. Helena Nordström is one of the leading authorities within Place Branding in Sweden.
Siduri Poli | A changers story
One idea can change the world but only a few have the right network, inspiration and knowledge to make that happen. The party of success and innovation has a limited and strict guest list. But every idea that could lead to positive change and is not being realized, is a loss for us all. Siduri Poli is the co-founder of Changers Hub, an innovative entrepreneur hub in Sweden.
Sofia Ulver | How your consumption promotes political visions 
By using an illustrative example of three colours, Sofia Ulver paints a picture of how our consumer society is in change and ideological shifts are a part of it. At this very second, we are all a part of, and we make or even perform what will come, thus nothing should ever be taken for granted. Sofia Ulver is a professor within marketing and an expert on social trends.
Lisa Ekström | How I stole great customer service – with pride!
Imagine that your company's life indicator is running low. You need extra life. What if you could steal life, or rather, steal – or borrow – someone else's life hack to increase productivity and efficiency. Lisa Ekström, the founder of the Swedish company Kamoja knows how to steal. "Kamoj" means to borrow, or snitch, in Thai. And that's what Lisa Ekström did when she stole her way to excellent Customer Service at Scandinavian Airlines.
Mina Dennert | How facing your fears may solve polarisation
What would happen if we all reached out to someone we fear and actually got to know that person? That thought made journalist Mina Dennert start the now global #iamhere network of 140.000 members in 14 countries who counteract disinformation, alternative facts and hate speech.
Caroline Ravn | Where the magic happens
Caroline Ravn is passionate about magic. As one of the world's few female magicians, she delights her audience with humor and classical entertainment combined with astonishing magic tricks, with an unbeatable talent for entertaining people. With several Swedish Nationals and Nordic Champions awards, the prize of Inspiration of the Year and sold out theaters – Caroline Ravn is an act of confidence and captivates her audience with charm, humor and magic.
Mia Liljeberg | Changing the way we change
Mia Liljeberg works with leaders to upgrade them to survive and thrive in the VUCA world. Building resilient leaders and calibrating their organizations to stay ahead of the game. With over 15 years of change management in the luggage, and having lived and worked in over 14 countries on five continents for global companies in most industries makes it easy for her to chart and navigate in new environments. Mia Liljeberg is the side-kick during organizational changes, big and small.
Katarina Gospic | The cautious brain
We often have to make decisions that have fundamental consequences in our lives, even though we don't have any basis for such decisions and we get no clear feedback whether we are making a huge mistake or not. Katarina Gospic, a former neuroscientist and physician, will talk about decision-making and uncertainty.
Karin Zingmark | What we can learn from 12 year olds on Instagram
Digitalisation leads to globalisation, changing consumer expectations, unexpected competition and a totally new media landscape which in turn demands of businesses to work in a different way. Take some time to study the networking skills of the 12-yearolds who grow up in the media landscape of today in order to learn the basics needed to survive in a fast moving, connected world of work. Karin Zingmark has over 20 years of experience of driving change on the topic of communication and leadership, most recently as CMO Lead at Microsoft.
Yamina Enedahl | One last breath – what freediving can teach leaders
Sweden's first world record holder in freediving Yamina Enedahl, now a leadership- and organizational coach, surfaces and debunks three common myths of performance culture that make people afraid of failing and ultimately limit their capabilities, as well as the capabilities of organizations. Replacing them with three leadership "piths", Yamina Enedahl teaches us how to help individuals and organizations to perform at their best and develop and grow in a healthy way.
Felicia Margineanu | It´s about time to break free from the norms and dare to be You
Sexy, breast, ass, muscular, tall, beard. These are just some of the words that Swedish teenagers thinks about being a woman or a man. The stereotypes that fits into the imagination of what the society has created to keep us all in the power structures that for long has ruled our world and our minds. But what happends if you stand out? Meet Felicia Margineanu, an award-winning social entreprenur and speaker that dares to break the norms and encourage others to take the courage to do the same, to dare to be themselves. (Felicia Margineanu på bild nedan)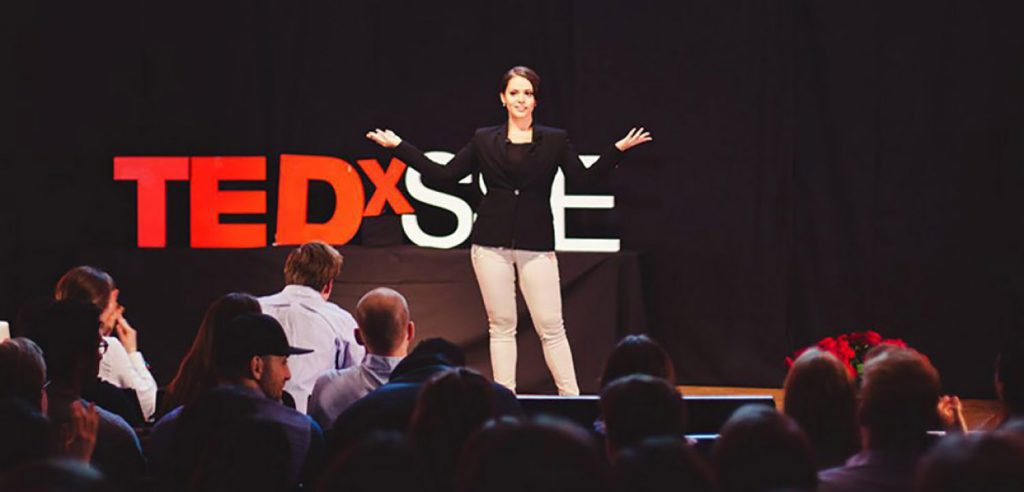 Vill du att någon av föreläsarna bakom dessa svenska ted talks gästar er med en föreläsning? Slå oss en signal på 031-780 32 35 så hjälper vi er snabbt att boka en TEDx föreläsare.